---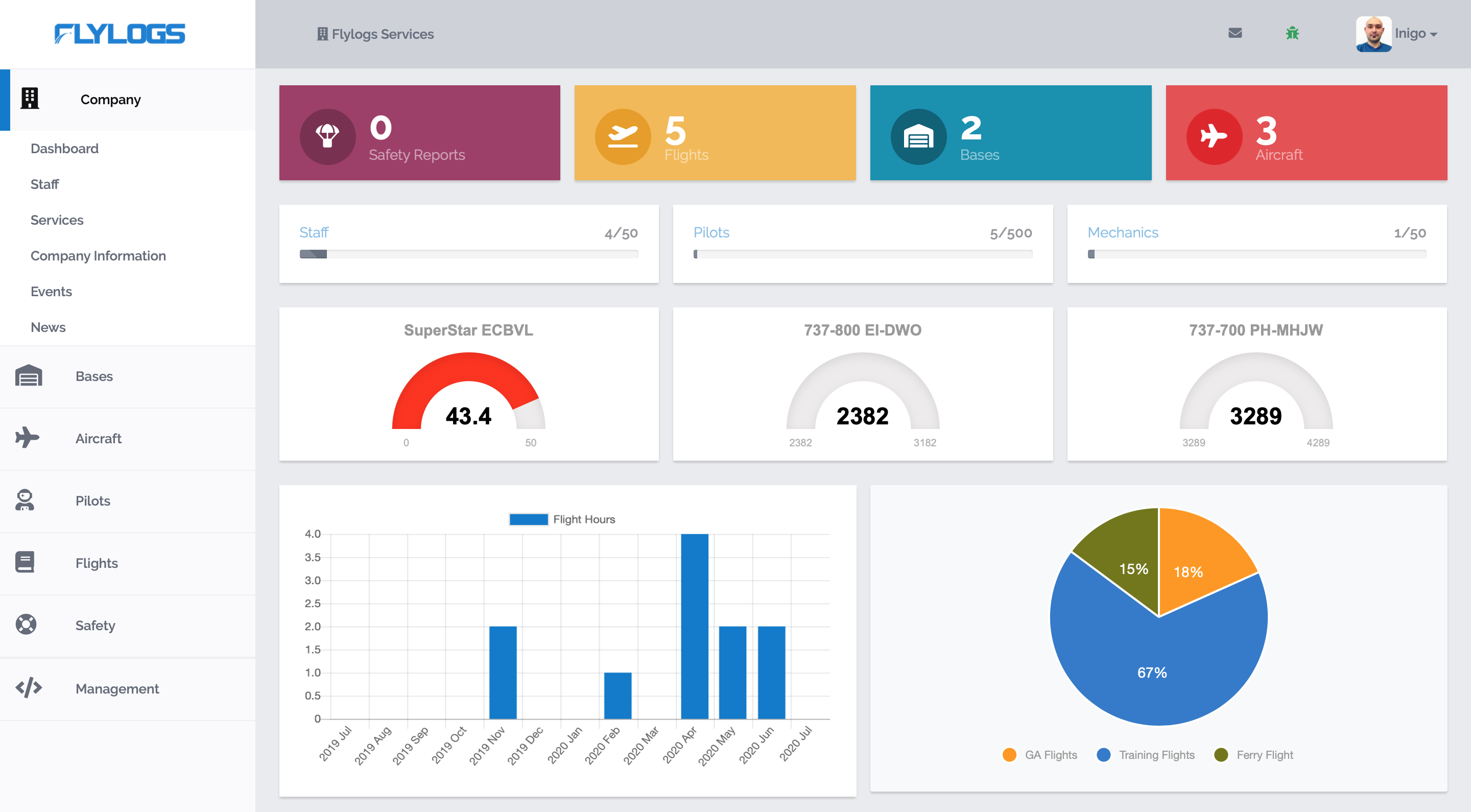 Easy and instant access to all your flights.
Flylogs stores your flight information for ever at no cost. All your flight history, in a single place, safe and easy to access.
Filter flights by pilot, aircraft, flight rules, location, client or type of operation. You can also export the results to Excel.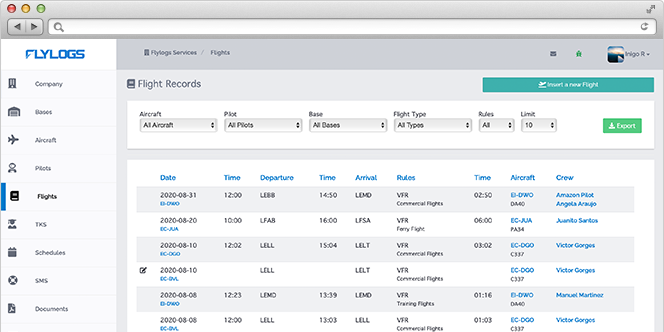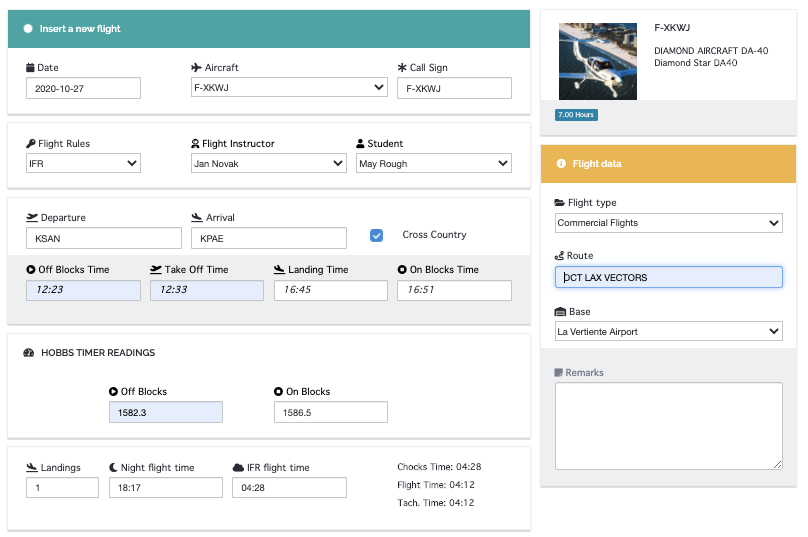 Fast and efficient flight form
Adding flights into your Flylogs account only takes a couple of minutes and can be done by your pilots from any PC, mac, tablet or smart phone.
All important flight data is saved and instantly available for company administrators.
Total flight times are automatically calculated and added to pilot and aircraft logbooks. View all flights by location or client.
Flight Documentation attached to each flight
Upload all flight related documents for each flight. Upload your weight and balance, flight route planning or any other file for the flight and keep everything organized!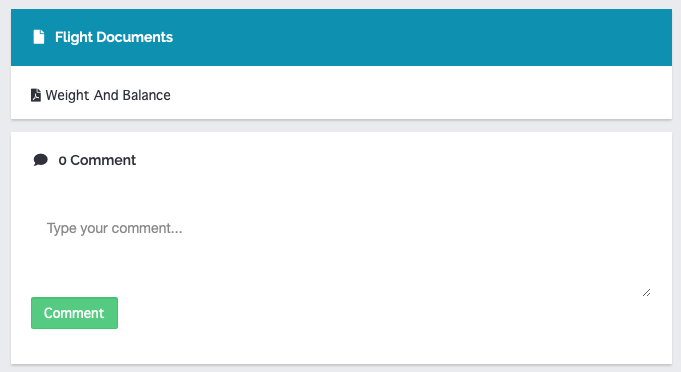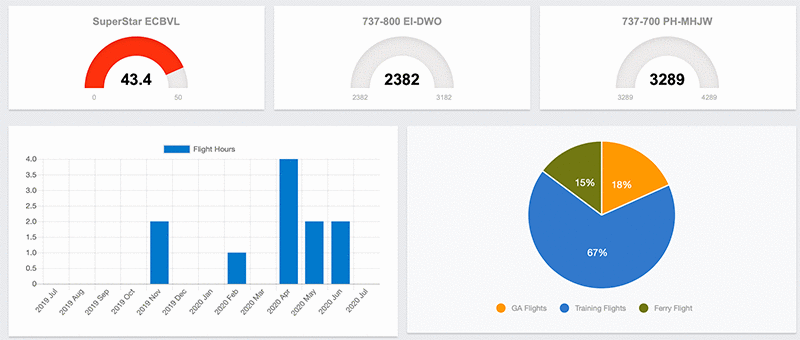 Beautiful flight statistics
All the flight time statistics you need and some others that will show you more detail about your operation.
Automatic flight time charts for the whole company! Also per pilot, aircraft, base or client.
All flight times automatically calculated instantly and error free!
---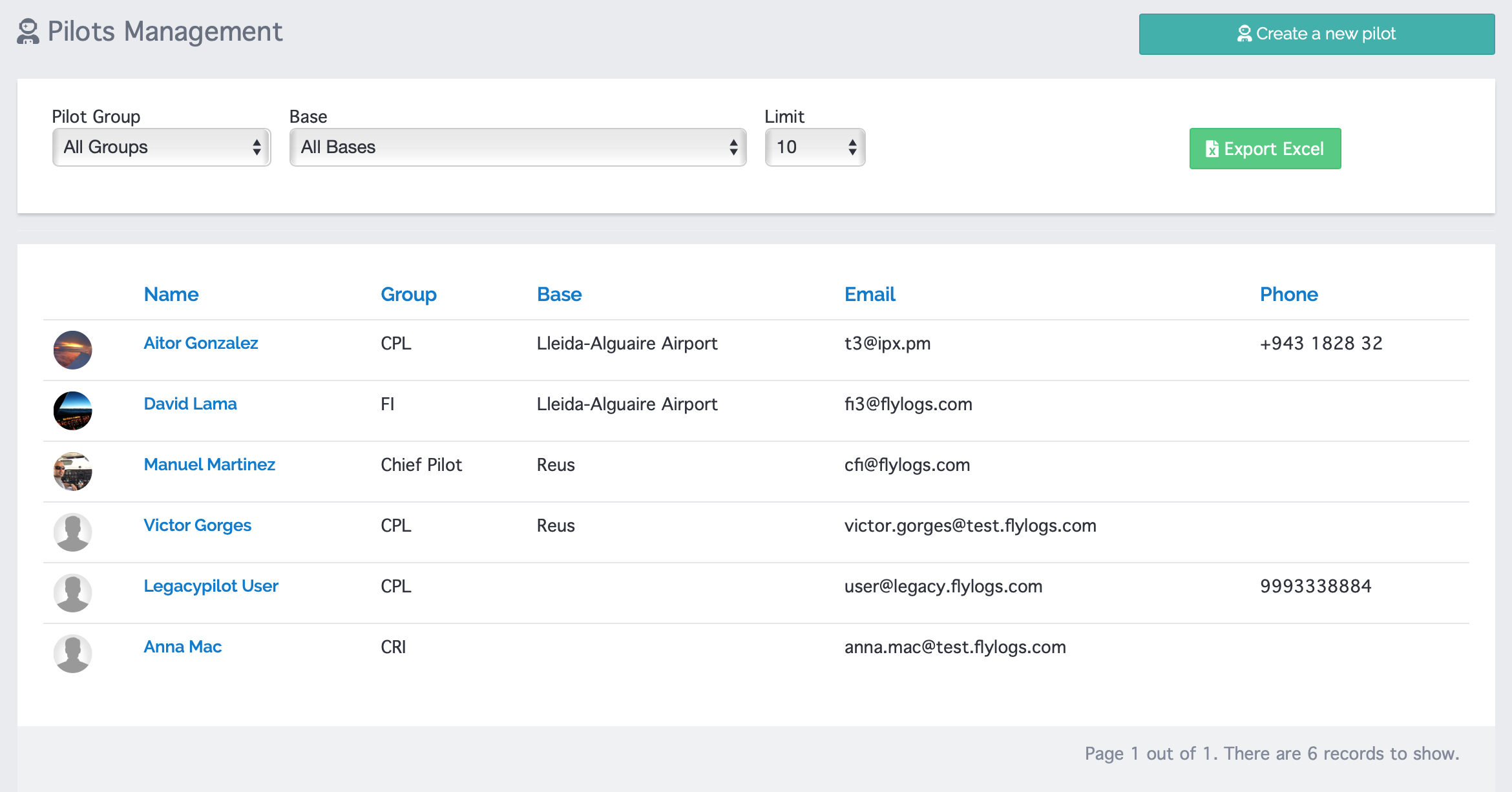 Limitless Pilot Agenda
You can search or filter pilots by name, base or pilot group.
Results are easy to navigate and you can always download a XLS spreadsheet to view it in Excel.
All Flylogs accounts have unlimited pilot data storage capacity. You dont have to worry if your company size grows, or if you dont want to delete inactive pilots.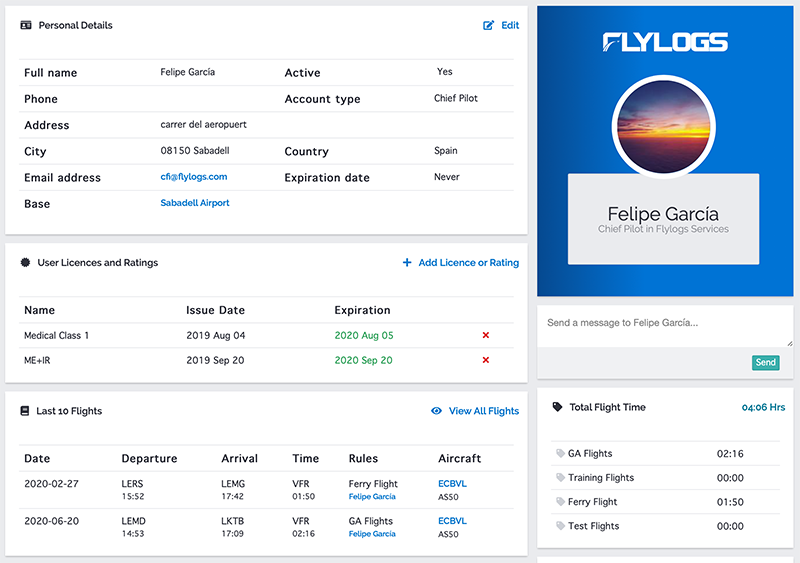 Complete Pilot Profile
Each pilot profile displays all relevant information. Flights, Medical and licence expiration dates and flight time experience.
From the pilot profile page you can also send a direct private messages to the pilot.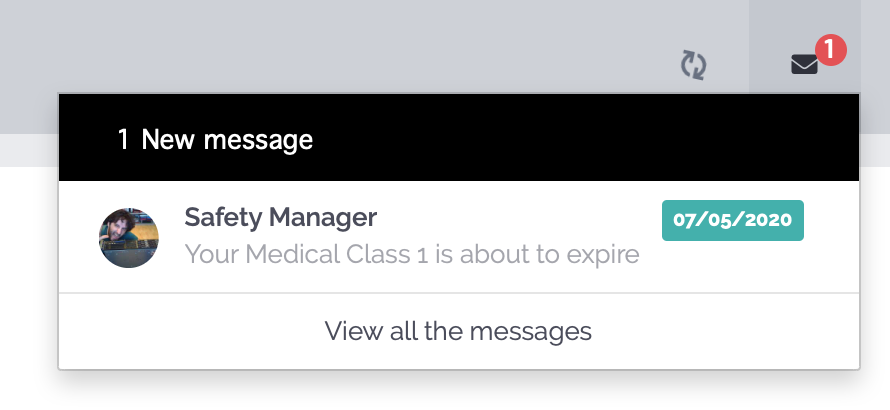 Don't miss a renewal date ever again!
You or your pilots can enter their medical check and licence expiration dates, including document photo or PDF upload.
Flylogs will send automatic renewal alerts on the internal messaging system and by email.
Initially these messages will be addressed to the pilot, and if no action is taken, before expiration, the company manager will also be notified.
---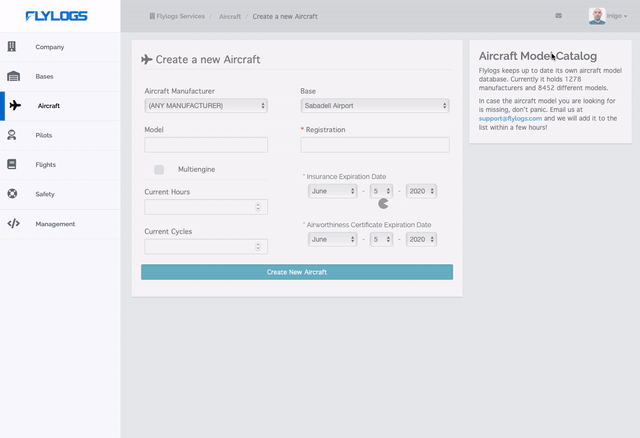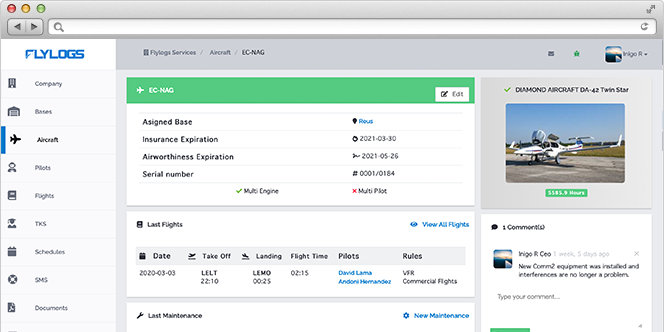 All aircraft paperwork and logbooks online!
Flylogs stores automatically all aircraft flight information.
Include aircraft insurance and airworthiness certificates up to date and receive alarms before any expires.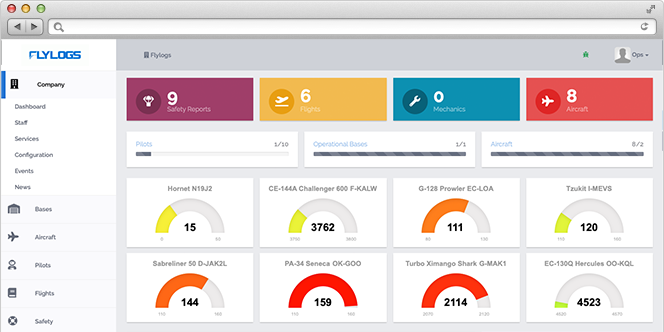 Easy maintenance windows in your manager dashboard
Aircraft complete flight and maintenance history in a single place, no need to get up from your desk to grab a logbook. Automatic trends and analytics powered by machine learning.
Take the best advantage of your aircraft time!
View aircraft maintenance windows directly on the schedule so you dont miss any.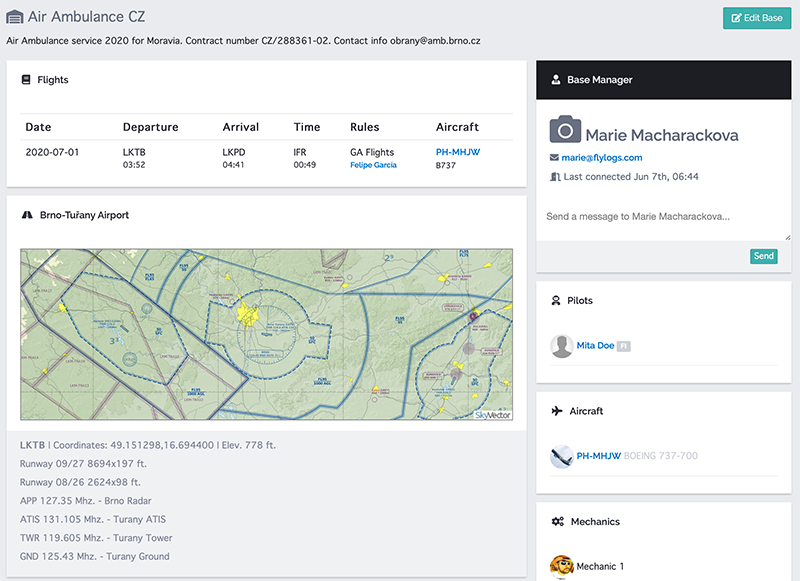 Organize locations and customers.
We have created the easiest way of managing a complex organization with several operational locations.
Create your Base in just 5 minutes. Manage aircraft, pilots, mechanics, events and flight schedules for each base.
You can manage your customers by creating Bases with the name of the customers. That way, you can assign pilots, aircraft and operations and keep everything organized.
---
X
We use cookies to enhance the user experience and usage statistics.
Privacy policy
.